The Commandery Membership
Become a member of The Commandery Worcester and enjoy a range of exclusive benefits including special member-only events and shop discounts.
The Commandery has seen a thousand years of Worcester's history unfold, from its humble roots as a monastic hospital to a dramatic period as the Royalists' Civil War battle headquarters. It has survived thanks to the generations of people who understood its significance in the national story of liberty and democracy.
The Commandery stages impressive historic events, hosts fascinating Civil War talks and is a hub of city trails throughout the year – bringing its rich history to life with something for everyone. Step back in time when you visit to discover tales of treason, treachery and tragedy in one of Worcester's oldest and most beautiful buildings.
Your membership will help to support our amazing buildings and museum collections. It will also enable us to deliver exciting events now and for the future.
Membership Benefits
Your membership will give you access to a number of exclusive Member Only benefits for one year:
Annual ticket included in price of membership
Discounts on Commandery and Art Gallery & Museum shop purchases
Special Member-only events and Members Row** at selected talks
FREE tour of Museums Worcestershire Collections Centre
Exclusive Members e-newsletter
Your name in Museums Worcestershire public promotions
Members website with exclusive content
** Members Row kindly sponsored by the Battle of Worcester Society, allowing members front-row seats.
Both Individual and Family memberships are available (see the application form for full details)
Supporting vital projects
Your membership will help to support Worcester's amazing museum collections and enable us to deliver exciting exhibitions and events now and for the future. Already, members have funded the acquisition of a key historical object into our collection.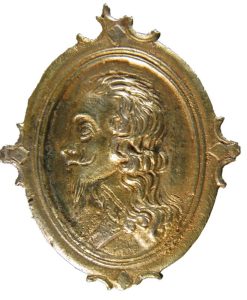 The Royalist pendant
In August 2017, a metal detectorist discovered a silver gilt pendant in the Worcestershire countryside which was reported to the Portable Antiquities Scheme and declared as treasure by the coroner.
With King Charles I's portrait on one side and a crowned shield for Great Britain on the other, the pendant would have been a declaration of loyalty to the Royalist cause, worn throughout the 17th century up to 1660 when the monarchy was restored.
The pendant is an important find for the county of Worcestershire, as an object which clearly represents our Civil War heritage. With the support of The Commandery's membership scheme, Museums Worcestershire were able to acquire this fascinating artefact, and it was displayed in a special spotlight exhibition for visitors to enjoy.
How to Become a Member
Simply download and complete the form and either hand it to a member of staff or mail to the address on this leaflet, please make sure you include payment.
Payment can be made by either cash/cheque (payable to Worcester City Council*) or credit card. Please do not send cash in the post.
Your membership will be available to collect at The Commandery (we will e-mail or phone you when ready) or please tick the box on the form if you wish it to be posted.
Your membership pack will include your personal membership card which you should use whenever visiting our museums, booking tickets to an event or making a purchase in our shops.
Please see Terms and Conditions in the membership pack for full details.