Work Experience
Next Generation – Online Programme
We have developed an online work experience programme for students to take part in from home!
You will be introduced to the work museums do and the role of Museum Curators through films and written material. Challenges will guide you to reflect on what makes a museum meaningful and learn how museum collections are managed.
The course is made up of five modules and will take about ten hours to complete. It can be undertaken using a smart phone, tablet or computer and you may also want to use a pen and paper for some of the challenges. Worcestershire Libraries have bookable slots to use their computers if you do not have access to wifi at home – book a library computer here.
The online work experience is suitable for students in years 10 to 13 and above who are interested in a career in museums. For students studying at Worcestershire schools or colleges, Museums Worcestershire can verify your participation and issue you with a certificate. All other students are also welcome to take part in the programme.
Next Generation – Online Programme Modules
Next Generation – In-Person Programme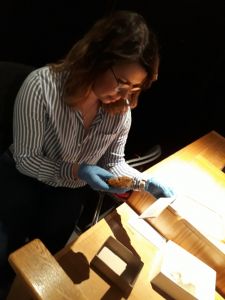 Museums Worcestershire are offering 2 unpaid work experience placements this summer to Year 12 and Year 13 students to give them the opportunity to understand the different roles within the industry. The placement lasts one week and offers students a range of experiences across our different departments including Learning & Engagement, Marketing & Communications, Visitor Services, and Collections & Exhibitions. Please read below carefully to make sure you are following the right route in your enquiry.
We are offering 1 placement at our Hartlebury Castle venue and 1 placement at our city venues, placing you at the Worcester City Art Gallery & Museum and The Commandery during your week.
The museum and heritage industry is a competitive one which means we receive a high volume of applications and are unfortunately unable to provide placements for everyone. Applications will be assessed on their merit and only applications made using the Next Generation Application Form will be considered. Please ensure you name which location you wish to have your work experience at – our Hartlebury venue or Worcester venues.
How do I apply?
Please complete the Next Generation Application Form (click to open form in a new window) and send it to Megan Keary our Learning and Outreach Coordinator at megan.keary@worcester.gov.uk
13th January – applications open for Summer term
24th April– deadline for applications for Summer term
27th April– successful candidates will be informed of their work experience
Application Tips
We receive a lot of applications, so how do you make yours stand out from the rest?
Read the job or placement description thoroughly, identify your relevant skills, experience and competencies. Think of examples you can draw upon to demonstrate these.
Be concise and ensure your information has an impact.
Keep it simple and clear – you can always elaborate at the interview.
Read the application questions carefully – take time to think about each question and add your personality to your answer.
Don't have any unexplained gaps on your application. If you have had a break or have been travelling, let us know.
Any qualifications should flow in a logical order.
Tell us why the placement is relevant for you – what do you hope to achieve by completing it?
Check your application before submitting. Check spelling and get a friend or family member to read through if it helps.
If you have any questions please email Megan Keary our Learning and Outreach Coordinator at megan.keary@worcester.gov.uk
Next steps?
Access free resources for kick-starting

your heritage career
We have developed a series of free toolkits and training videos alongside Worcestershire Archive & Archaeology Service. These are perfect for students looking to enter the heritage sector, volunteers and trainees, or existing staff looking to boost their skills.
Topics are wide-ranging including guidance on fundraising, learning, marketing, volunteering, events and collections.