Visit The Commandery all year with a Worcester Resident Pass
Worcester residents can celebrate The Commandery's history all year with the Worcester Resident Pass – visit us for an entire year from only £5.50.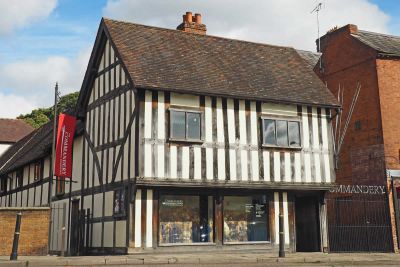 The Commandery has seen a thousand years of Worcester's history unfold and has always been there for the people of Worcester as a place of shelter or learning. From its begins as a monastic hospital through to the Royalist battle headquarters in the English Civil War, to a school for the blind in the Victorian era it has played a vital role in the city. Worcester residents can celebrate The Commandery's history all year with the Commandery's Worcester Resident Pass which allows you admission to the historic building and gardens in the heart of the city for an entire year from only £5.50.
The Commandery plays host to fantastic events throughout the year including Living History weekends, Medieval Celebrations and the traditional spring event Oak Apple Day – bringing its rich history to life with something for everyone. Step back in time when you visit to discover tales of treason, treachery and tragedy in one of Worcester's oldest and most beautiful buildings. Worcester residents can enjoy the museums' regular events throughout the year with their pass, as well as take advantage of the permanent interactive exhibition The Civil War Story.

The resident pass is perfect for families to enjoy activities and days out with the children come rain or shine. The Commandery gardens are the perfect place for a picnic; lounge in the sunshine, run off some energy in the gardens or enjoy a coffee and cake at our canal side café. Rainy days need not be a worry as there is so much to keep younger visitors entertained inside. Discover your regiment in the Civil War exhibition and find out how brother fought brother in the last battle of the English Civil war, The Battle of Worcester 1651. Travel back to medieval times in our Painted Chamber and discover medieval medicines and treatments. There are craft activities during school holidays and families can hire backpacks to explore The Commandery throughout the year, just ask in the shop for more details (additional charges may apply).
Discount at the Museum of Royal Worcester – Commandery Resident Pass holders enjoy 10% off entry to the Museum of Royal Worcester. Just show your pass when you visit the museum or mention it when you book.
Resident passes are available for anyone who pays their council tax to Worcester City Council.
Individual pass: £5.50.
Family pass: £13.
Includes up to 2 adults and 3 children. Children under 5 are free.
For fun for a whole year for as little as £5.50, just pop into The Commandery to sign up or call 01905 361821 for more details. Please bring your Council Tax bill with you when signing up as proof of residency.
You can also download and fill in the form in advance here.