From the Art Gallery with Love x
Sarah Leavesley
Mosaic of Modern Worcestershire
2020
This project is the second to be shared as part of our From the Art Gallery with Love project. 'Mosaic of Modern Worcestershire' is inspired by one of the best known artworks in Worcester City Art Gallery & Museum's collection, John Harris the Younger's A Prospect of Worcester from the East (c.1750). Over the course of her project, Sarah produced a poem with accompanying film, and reimagined the 18th century painting using small photographic tiles of modern Worcester.
The artist worked on the project during the 2020 lockdown which restricted residents to their homes and local streets. 2020 also marks the three-hundred-year anniversary of Harris's birth.
Photo Mosaic
Sarah's response to the painting included creating a modern interpretation of the scene using segments from digital photos of contemporary Worcestershire as photographic tiles, laid over the framework of the original painting. The resulting artwork is neither the original painting of Worcester as it was then, nor the Worcestershire landscape as it is now, but a composite abstract created by combining the two.
Hover over the mosaic to explore each tile (web browsers only).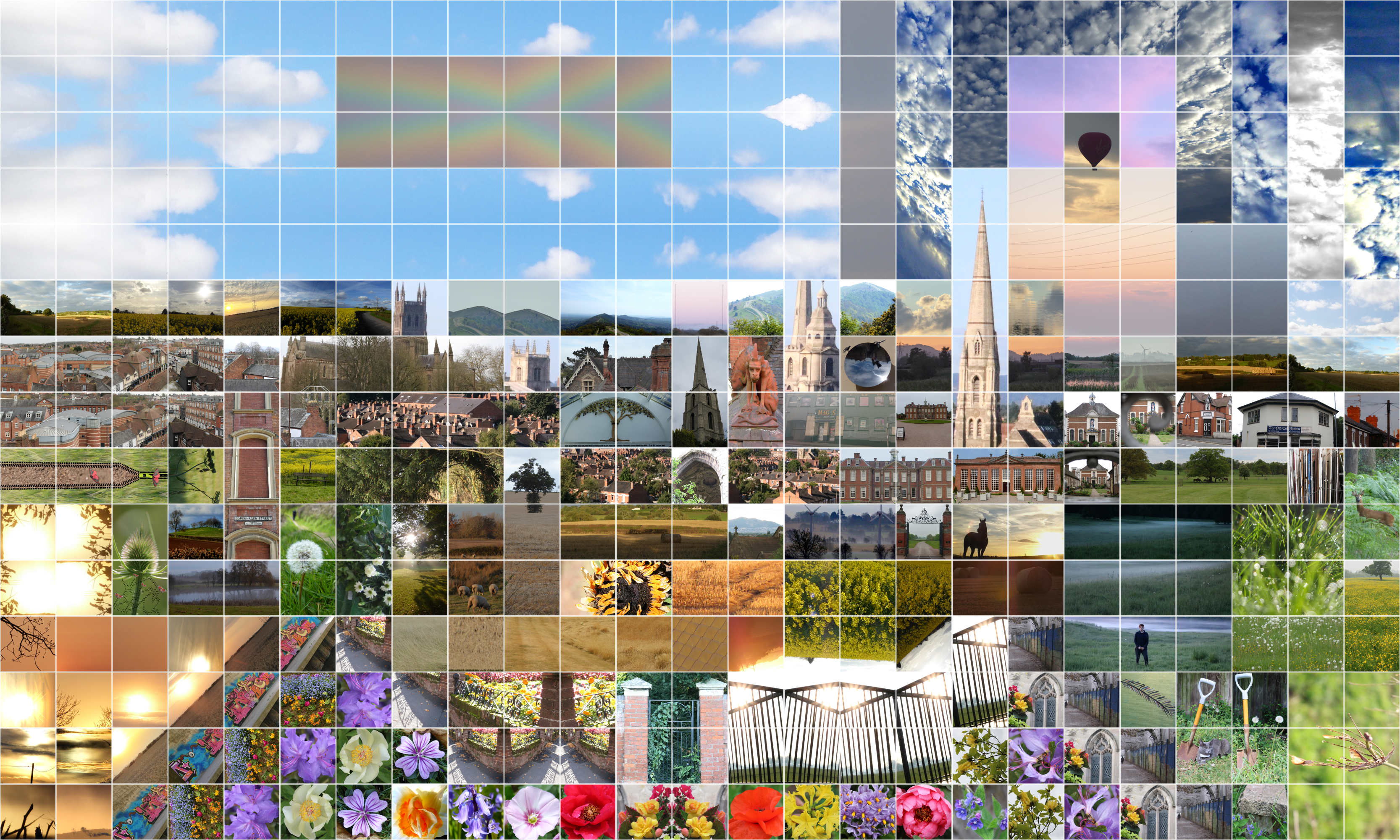 Poem & Poetry-Film: Still Splendid
Still Splendid
An open garden gate gives way
to late summer's golden harvests,
green fields, city rooves and spires,
the distant curves of the Malvern hills,
mist and cloud combining in a wide blue sky.
I could step through this past prospect
of Worcester into the picture's pigments,
and piece together each painstaking detail
to get a sense of eighteenth-century life:
how much, yet how little, has changed.
Fast forward with broad brushstrokes
to the rush of cars and people, the flash
of busy scenes caught by the click
of many cameras – shutters opening,
then closing on glass-eye images.
This modern shape-shifting mosaic
is glimpsed in quick snatches – fixed
not with a painter's palette of oils,
but pinprick pixels of colour. A different
texture, but richly vibrant all the same.
Six hundred thousand residents *
now sculpt this county with their lives
and dreams. Centuries of construction
have re-patterned the cityscape, yet still
the castle, cathedral and backdrop hills.
Still the River Severn, roads and fields
stretch across the contoured miles –
those slopes and dips that Harris
would have known when he painted
'A Prospect of Worcester from the East'.
Sarah Leavesley/James
* This compares to a county population estimate of 120, 000 in 1761.
Poetry-film for Still Splendid
© Sarah Leavesley
The poem comes to life as Sarah performs it over visuals of Mosaic of Modern Worcestershire.
Click here to visit the interactive version of Sarah's poem on her website.
Other things you might like…
From the Art Gallery with Love x
The Art of Isolation – real-life stories from lockdown, recorded and edited by Julia Letts and illustrated by Sarah Millin.
Museum After Hours online – catch up with the playlist.
Nilupa Yasmin: Something Old, Something New – explore the online exhibition.
Tell us what you think!
We're eager to know what you're enjoying about the online content we're providing during the pandemic, and what we should do more of. Click here to let us know. It only takes a couple of minutes, but will be a big help to us.