Date
13 Nov 2019
Expired!
Autumn Craft Cases
Seasonal displays of crafted items from local makers, on show in Worcester Art Gallery & Museum foyer
6th August – 13th November 2019
On display are hand-made ceramics and prints by Barry Lockwood, and Respoke Designs by Mike & Sam Price, jewellery made from recycled bicycle spokes.

Barry Lockwood
Originally trained as a designer in printed textiles, Barry discovered a love for ceramics after a life as a teacher. As well as producing bold geometric prints, he is now devoted to developing his ceramic skills and mainly concentrates on the Raku technique, inspired by traditional Japanese firing. His style has a contemporary, organic, sculptural look with fascinating colours, textures and patterns. Each piece is individually hand crafted.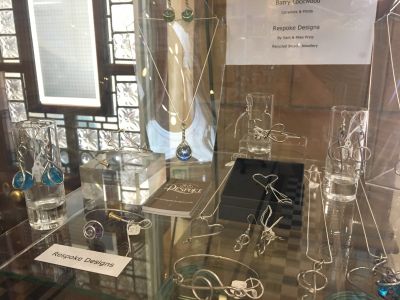 Respoke Designs by Mike & Sam Price
These quirky designs utilise recycled bicycle spokes, marbles and beads to create bespoke handcrafted stainless steel jewellery and accessories. The range not only appeals to cycling enthusiasts but to lovers of recycled materials, mechanical elements and those who are looking for something fun and different.
Find our craft cases in the Art Gallery & Museum foyer, with a rolling display of hand-made and crafted items from local artists and craftspeople.
See something you love?
Unlike the art in the upstairs gallery, these beautiful unique pieces are available to buy so you can take a bit of Worcester craft with you to enjoy after your visit. Every purchase supports local craftspeople and the Art Gallery & Museum, too.