Date
09 Sep 2020
Expired!
A Welcome View exhibition
We are delighted to welcome back visitors to the Art Gallery & Museum with a display purely made from our collections.
A Welcome View is really two exhibitions. In the main gallery, visitors will find a series of wonderful views from around Worcestershire, celebrating the wealth and diversity of Worcester's Fine Art collection in addition to the beautiful tranquillity of our county. Lose yourself for a moment and reflect on wonderful views you might have
been missing over the past few months. We are bringing out some Art Gallery favourites including work by Benjamin Williams Leader and H. H. Lines, alongside some beautiful paintings that have rarely been displayed.
In the Watercolour Gallery, we have created a rainbow of art. Inspired by the wonderful 'rainbows of hope' our community were creating during lockdown, we decided to contribute our own rainbow-themed tribute to NHS heroes and key workers working tirelessly to keep the county going. Every week we shared an image of a piece in our art collection on our social media pages (view them here), each representing a different colour of the rainbow. It is a pleasure to be able to display our full rainbow of artworks in person now that we're open again.
A brand new welcome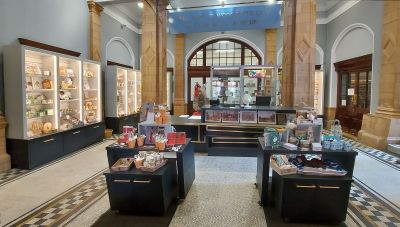 While visiting the exhibition, why not take a look at our brand new museum shop too? Prints of one of our best-loved Worcestershire landscapes, BW Leader's Smooth Severn Stream, are available to purchase and visitors can enjoy a host of new product ranges, beautiful gift ideas and a more open layout which shows off the building's stunning architecture.
Plan a safe and enjoyable trip to our museums by reading our visitor guidance here.
---
A note from our Curator
Claire from our Collections team reflects on the unique experience of curating an exhibition in the time of Covid-19. She says:
One of my favourite things to do is help plan exhibitions. To take an idea from a brief conversation, develop a story, select objects – some of which may never have been displayed before – delve into other people's collections to see if there is anything we could borrow to bring a new dimension or tell a different tale. It's a wonderful journey that we hope ultimately results in a visually beautiful gallery providing a high quality experience that gives something new and exciting for our regular visitors whilst also engaging new ones.

Just before we shut our doors in March we were due to open a new exhibition called Skyscape.  Coming from the Ashmolean Museum in Oxford, who we have worked with very successfully before, and featuring work from a wonderful range of artists including Rembrandt, Durer and Ruskin, we knew we had a blockbuster on our hands.  Over time it became increasingly apparent that not only this exhibition, but also the subsequent Summer exhibition Human Machine, would not be able to go ahead. We were very deflated, but there was a silver lining – the opportunity to mount an exhibition entirely of our own artwork, with the challenge of reconnecting with our audiences and providing a safe space for our audiences to engage with the art on whatever level they are comfortable with.

We have had to consider things we have never thought about before. Questions arose like "Is this painting small enough for one person to hang?" "Is this painting large enough, but not too heavy, for two people to hang whilst maintaining a safe distance from each other?" "How can we ensure a safe and sensible route around the gallery?"

Practicalities aside, the main question is how we present a coherent exhibition with a theme that can match an ever-changing mood. We need to be uplifting but not cheerful given the context; interesting and fresh, familiar and reassuring; bringing out old favourites and making them fit a theme.

We take huge pleasure in presenting our collections in what ever way we can. The increase in outreach we have undertaken over the last few months has been eye opening to us technology-shy curators, but we have found it to be a wonderful way of sharing different perspectives on  our collections and will continue to learn and share in this way in the future. But in an ideal world a painting, print, or object needs to be seen in real life.

An individual's response to a national event is a very personal thing and something we will explore through art, collecting and community work over the coming months. To reflect the enormous impact of Covid-19 in one exhibition so early on is too great a thing and so A Welcome View presents you with a simple reminder of the beauty around us that we can once again start to enjoy. We hope you like what we've done. We've certainly enjoyed doing it.

We offer our thanks to those that have worked tirelessly to keep the county going in these extraordinary times.