Date
07 Aug 2020
Ongoing...
Cost
Free
A Welcome View exhibition
We are delighted to welcome back visitors to the Art Gallery & Museum with a display purely made from our collections.
A Welcome View is really two exhibitions. In the main gallery, visitors will find a series of wonderful views from around Worcestershire, celebrating the wealth and diversity of Worcester's Fine Art collection in addition to the beautiful tranquillity of our county. Lose yourself for a moment and reflect on wonderful views you might have
been missing over the past few months. We are bringing out some Art Gallery favourites including work by Benjamin Williams Leader and H. H. Lines, alongside some beautiful paintings that have rarely been displayed.
In the Watercolour Gallery, we have created a rainbow of art. Inspired by the wonderful 'rainbows of hope' our community were creating during lockdown, we decided to contribute our own rainbow-themed tribute to NHS heroes and key workers working tirelessly to keep the county going. Every week we shared an image of a piece in our art collection on our social media pages (view them here), each representing a different colour of the rainbow. It is a pleasure to be able to display our full rainbow of artworks in person now that we're open again.
Worcester City Art Gallery & Museum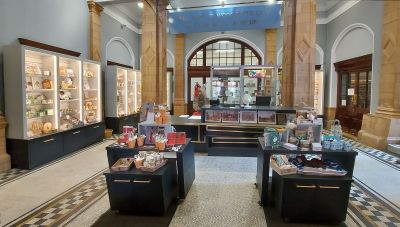 While visiting the exhibition, why not take a look at our brand new museum shop too? Prints of one of our best-loved Worcestershire landscapes, BW Leader's Smooth Severn Stream, are available to purchase and visitors can enjoy a host of new product ranges, beautiful gift ideas and a more open layout which shows off the building's stunning architecture.
Plan a safe and enjoyable trip to our museums by reading our visitor guidance here.