Date
23 Dec 2021
Expired!
Fashioning Peace: Life and Liberty after the Great War exhibition
Running until 23 December 2021.
Part of the Worcestershire World War One Hundred programme, Fashioning Peace is a temporary exhibition at Worcestershire County Museum exploring how the changes brought about through the Great War 1914-18 were reflected in clothing and fashion from 1918 through to the roaring twenties. 
The Great War changed everything. From science and medicine to art and culture to the very core of society and its values, its effects were far reaching and dramatic. Featuring the County Museum's outstanding costume collection, the exhibition begins with stories of scientific, medical and cultural changes brought about by the war – including a wonderful model of an aeroplane and an unsettling gas mask – before moving on to costumes which demonstrate social, economic and technological advances in a beautifully visual way.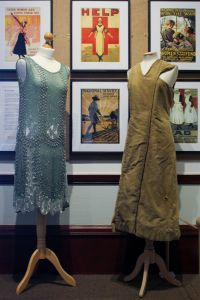 The struggle for women's suffrage began long before the Great War, but it was the valiant efforts of the women and girls during the conflict that is widely regarded as being the catalyst for women gaining the right to vote in 1918. Echoing these developments, the restrictive crinoline and bustle, tailored seams and intricate boning of female costume pre-war period disappeared forever. A typical 1920s dress had minimal shaping, no tailoring and hems at knee level: fashions for women were unlike anything that had gone before. It was a revolution in dress and paved the way for the modern age.
Rachel Robinson, Manager of the County Museum at Hartlebury Castle says
"Throughout history, clothing has often reflected a person's social and economic status and post-war fashion reflected a new and liberated mood. This exhibition is about surviving and thriving after the Great War and is reflected in the functionality and fun of the costumes on display today.

"We are delighted to be able to showcase a number of costumes from our outstanding collection and look forward to welcoming visitors to enjoy this new exhibition."
The costumes on show are taken from the County Museum's Tickenhill collection which contains over 2000 items all reflecting the changing fashions and values of the last three centuries.
Hartlebury Castle
While visiting the exhibition, explore the grounds and gardens and enjoying more of the County Museum's fascinating collections. Hartlebury Castle is proud to have recently been named a Hidden Gem by Visit England.
Plan a safe and enjoyable trip to our museums by reading our visitor guidance here.