Date
04 Jan 2020
Expired!
Crafted For You 2019
16 November until Saturday 4 January 2020
Crafted for You shows an exquisite array of jewellery, textiles, ceramics and other handmade craftsmanship. The Midlands has a special history as a centre for decorative making skills and we're proud that this tradition continues today and is celebrated in this exhibition which features an exquisite array of jewellery, glassware, ceramics and other handmade craftsmanship.
Worcestershire has a special history as a centre for decorative making skills and this tradition continues today and is proudly celebrated in this exhibition. Each piece has been made by a talented maker and hand-picked for this top-quality exhibition.
Crafted for You is perfect for that unique Christmas gift for someone special or a treat for yourself, all items are for sale and make perfect presents with a local provenance. Purchasing from the exhibition supports both the museum and local artists.
Maggie Wallace, exhibition curator said: "Crafted for You is a celebration of craft with so many different makers on show all so talented and producing beautiful wares. If you are looking for a Christmas gift for someone special, or a treat for yourself, Crafted for You will have what you are looking for."
A special Christmas event at the Art Gallery on Saturday 7 December 11am – 1pm welcomes visitors to enjoy a festive drink and mince pie with a bonus of 10% off purchases all day in the Crafted for You exhibition and Worcester Society of Artists exhibition as well as purchases from the Art Gallery & Museum Shop. Every penny spent in the Shop goes back into supporting the work of the Art Gallery & Museum and enables exciting exhibitions and events to happen.
Photograph shows Jennifer Colquitt ceramics.
Meet the Crafted For You 2019 makers
Jewellery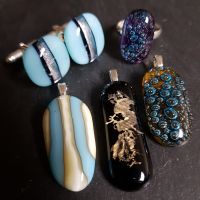 Sarah Greening – glass jewellery
Sarah plays with the chemistry of reactions inside layers of glass to produce striking light-effects and bold colour combinations which make unique one-off jewellery pieces.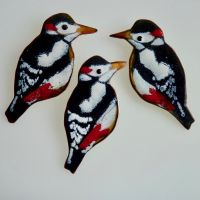 Sally Davis – enamel jewellery
Sally experiments with metal and glass to explore soft and hard textures, inspired by contrasts between post-war London of her childhood and the natural surroundings of her home today.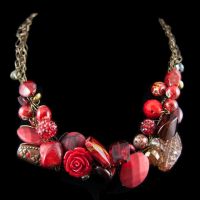 Rosemary Sandy – bead jewellery
These vibrant handmade jewellery pieces are made using a variety of beads, Czech glass, freshwater pearls and semi-precious stones, often combined with wirework and crocheting or knitting.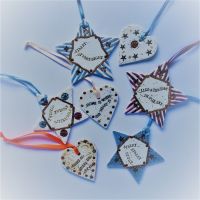 Jennifer Colquitt – ceramic jewellery
Jennifer draws inspiration from art, literature and nature to produce delicately coloured porcelain artworks and decorations which combine tactile textures with fine patterns.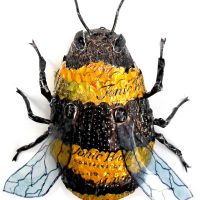 Val Hunt – recycled tin jewellery and sculpture
Val's creative recycling is borne from a passion for the environment, and she produces a range of decorative and functional pieces, including a series of works which highlight endangered species.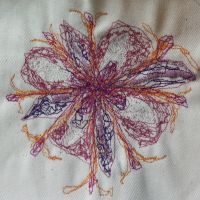 Melissa wright – textile brooches
Melissa's fascination with the textures of frayed denim has led her to recycle worn jeans and combine them with other contrasting fabrics, applique and stitching.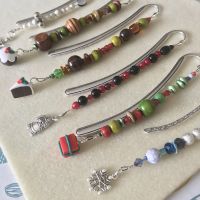 Zoe Carson – jewellery
Zoe lovingly crafts bright and tactile jewellery and other items like bookmarks using a variety of materials including glass, ceramic, wood & quality beads.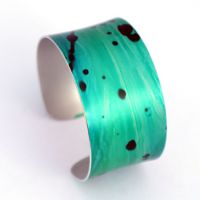 Miranda Peckitt – aluminium jewellery
Miranda set up Very Colourful Jewellery with her father, and continues to experiment with bright, bold designs to create unique, stylish & wearable art.
Woodwork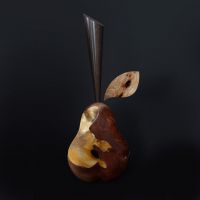 Ben Homer – treen work
Ben creates unique sculptural apples and pears which make a feature of natural growths and flaws in the wood he uses.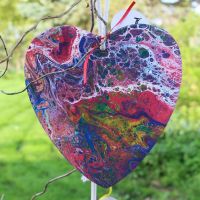 Rebecca Morgan – acrylic drop on wood & woodwork
Rebecca uses the pouring method with acrylic paints to create unique and intensely colourful artworks under her pseudonym beckofayart.
Ceramics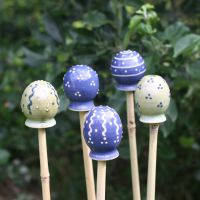 Chris Greening
Influenced by the marine environment where he sources his clay, Chris's homeware pieces are reminiscent of the patterns that nature produces, such as the waves on a sandy shoreline.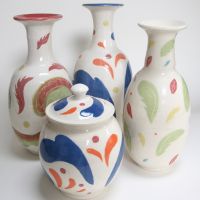 Martin Griffiths
Created especially for Crafted For You exhibition, Martin's most recent ceramics are colour-brushed and patterned with sgraffito-cut decorations inspired by his paintings of flowers and hedgerows.
Textiles
Bobbi Heath – hats
As a couture milliner with over twenty years of experience, Bobbi individually-designs and hand-makes unique hats ranging from warming winter felt to statement fascinators.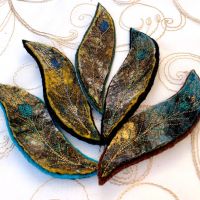 Penny Dixon – felt scarves & hats
A member of the Heritage Crafts Association, Penny makes her own felt artworks to honour nature and the unseen worlds of our imagination, and places great emphasis on wellbeing through art.
Melissa Wright – textile framed pictures (see above)
Pictures / sculpture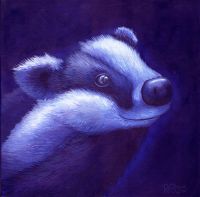 Rachel Blackwell – paintings & prints
Malvern-based artist Rachel paints mythical landscapes inspired by the British countryside, populated by woodland animals and fairies which weave stories through her artworks.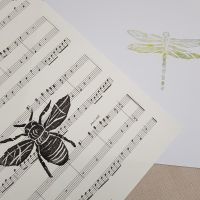 EmmaLeans – lino prints
An artistic partnership between friends Emma and Natalie, Emmaleans create hand-made lino prints, cards and lavender bags which feature homely designs inspired by British wildlife and nature.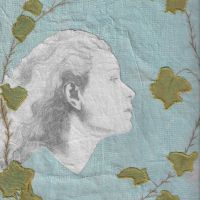 Julie Stevens – illustrations
Julie's series of dream-like illustrations are inspired by her Grandmothers, Dot and Winnie, and explore folklore and myths that inspired her as a child using pencil, ink and textiles.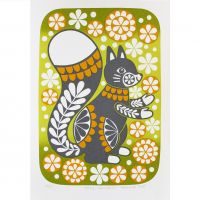 Karoline Rerrie  – screen print
Karoline's illustrations and prints are characterised by bold outlines, bright colours and pattern inspired by folk art and traditional costumes from around the world.