There are lots of things to see and do in Worcester City Art Gallery & Museum, and entry is free!
Since 1833 a collection of breathtaking variety and interest has been created for the City of Worcester.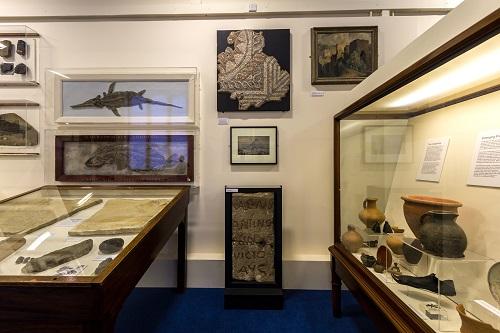 Our museum gallery celebrates these amazing objects and the fascinating stories that lie at the very heart of this collection.
The famous Worcester industrialists and philanthropists who funded our institution.
The artists and craftspeople whose work was an inspiration
The adventurers and explorers who brought back tales and objects from the far flung corners of the world.
The early pioneers of the emerging sciences of archaeology, geology and natural history whose work made sense of the world around them.
Highlights in the gallery include:
Dinosaur Footprints – see the print and imprint of an Iguanodon, a three toed dinosaur of the cretaceous period, who made this footprint over 130 million years ago.
Lea and Perrins Archive – thanks to a generous loan by Lea and Perrins, our visitors can now see some of the company's finest historic items including the extremely rare lignite jug first used to mix the world famous sauce.
Glover's Workshop – Worcester's gloving industry enjoyed worldwide success. Come and see for yourself what the inside of a glover's workshop would look like.
Roman Mosaic Pavement – a Roman mosaic discovered at Bays Meadow Roman Villa in Droitwich, the opulent home of the official who controlled the local salt industry.
The Ethnographic Collection – weapons, skins, furs and trophies brought from the uncharted territories of the world by Worcester's Victorian adventurers.
As well as these wonderful objects there are plenty of activities to keep the kids amused.
The Gallery is open Monday – Saturday: 10.30am – 4.30pm.