The display was set up in 1978 after the closure of Stewards Chemist shop at 27 High Street, when the entire shop along with the fixtures and fittings were purchased and transported to the museum to be redisplayed.
Over the years the display has been a particular favourite for many visitors to the museum, including many who remember visiting the shop in its heyday.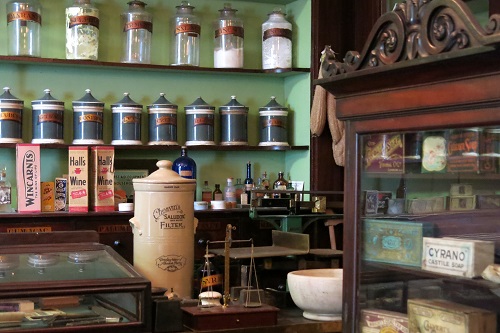 The History of Steward's Chemist Shop
The Steward family ran this chemist shop originally situated at 27 High Street, Worcester for almost a hundred years. The shop had a prime position, almost opposite the Guildhall and on the main route through Worcester to the North.
John Alfred Steward started trading in 1876 and the shop finally closed in 1973, when his grandson Cyprian Steward retired. The building had been used as a chemist shop since 1776 when it was first owned by an apothecary called Mr Featherstonehaugh (pronounced Fanshaw). In 1842, it was taken over by a chemist called Mr Walter Woods.
Mr Walter Woods installed the counters and fixtures which you can see in the shop today. They are made from mahogany and were brought in the 1860's, supplied by Charles John's General Fixture Warehouse, No 157 Drury Lane in London. The shop fittings were described by the press in 1897 as being old fashioned looking, but still continued to be used until the shop closed.

Mr John Alfred Steward
John Alfred Steward was born in Tenbury Worcestershire in 1845, and started his career in Pharmacy in 1863. He trained and gained experience in London, Dublin and also Paris, where he met and married Mademoiselle Elise Le Gresley. In 1876, at the age of 31, he came to Worcester where he purchased 27 High Street from Mr Walter Woods. At first the business took some time to establish and in his first week, he took only 9 shillings and 3 pence. Soon, however Mr Steward became a trusted pharmacist and a very well respected Worcester citizen.
Like many businessmen of the time John Steward took a great interest in public affairs. He became a member of the City Council and was twice Mayor of Worcester. He and his wife were the first Mayor and Mayoress of Worcester in the twentieth century. John Steward was a councillor for 21 years and an Alderman for 12 years. He was made a J.P in 1900, was chairman of the Worcester Theatre Royal Company and director of the Worcester Gas Company.
Even though Mr Steward became a very important and well-respected person, as far as society was concerned he was still 'in trade' and like other shop keepers lived above his shop.
In 1905, John Alfred Steward retired and handed the business over to his eldest son, Charles A. Steward. He ran the shop until 1934, when his son Cyprian C. Steward took over. In 1944, the business became a limited company called C.A Steward Ltd. the company eventually ceased trading in 1973 and the shop' contents were brought by Worcester City Museums.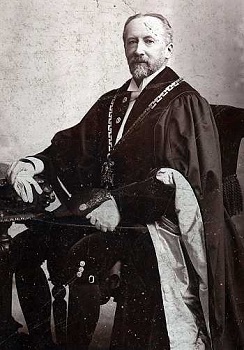 From 27 High Street to Worcester City Museum
In January 1974, Worcester City Museum bought the contents of Stewards Chemist Shop from the Steward Family, including all the fixtures and fittings, display units, chemists equipment, paper work and shop stock (some of which dated back over one hundred years). Former curator, Mr Brian Owen headed the project along with Mr T Davies one of the Museums technicians who provided many of the painted props available for viewing in the gallery, as well as a lot of restorative work on the shop furniture. After extensive research, the chemist shop was reconstructed as close as possible to the original in 1900, with the exception of the shop windows which could not be added. The display opened in 1978.

Other Notable Worcester Chemists
John Wheeley Lea and William Perrins, the founders of Lea and Perrins Worcestershire sauce were originally chemists, running their business in a shop in Broad Street in Worcester. It was from their shop in Broad Street that their famous Worcestershire sauce was first developed.
John Evans and Edward Evans established themselves as Chemists at 12 Foregate Street, Worcester in the early 1800's. John Evans had wider ambitions and left Worcester for London to become a wholesale Chemist. Eventually he became the owner of Evans medical, a Liverpool based manufacturer and supplier of drugs and medical equipment, (now a multimillion company, and part of a world-wide drug manufacturing conglomerate.)
Edward Evans continued as a chemist until the 1830's when he joined forces with William Hill to found Hill, Evans and Co. Vinegar works. Edward Evans sold his chemist shop to Mr George Anderson and eventually, the shop became Anderson and Virgo, a well known chemist in Worcester for many years.