Clay Country by Kurt Jackson – landscape paintings depicting Cornwall's industrial clay works, opening at Worcester City Art Gallery on 18 September 2021
 Paintings created in situ at the Littlejohns China Clay works depict workers as they extract and transport china clay in an extraordinary man-made landscape
China clay from Cornish mines was destined for the porcelain works at Worcester, creating an industrial link between the Midlands and Cornwall
Kurt Jackson is a leading figure in contemporary landscape painting and a noted environmentalist
An exhibition of new work by noted artist Kurt Jackson opens at Worcester City Art Gallery & Museum on 18 September.
Clay Country brings together wall pieces and ceramics centred around Cornwall's industrial clay mines. Jackson captures the essence of this hidden part of the Cornish landscape, where for centuries clay mining has shaped the culture, heritage and landscape.
For Clay Country, Jackson worked in situ at the Littlejohns clay works, an enormous pit that covers over 500 acres with a circumference of around 15 miles. He observed workers in the pit using massive machines to extract and transport china clay, set in an extraordinary man-made landscape. The dramatic – and sometimes extreme – variations in the weather inspired a diverse range of drawings and paintings, some created by Jackson as he perched on the edge of the pit or down in the depths of the mine. The new works range from huge tarpaulin-sized canvases to small intimate studies, all completed on site. At times, clay and stone were mixed into the paint, creating new textures to the work.
China clay has been mined in Cornwall for at least two hundred and fifty years and is an ingredient in our everyday lives; it appears in paper, light bulbs, toothpaste and plastics. The porcelain works at Royal Worcester depended on clay from Cornish mines, so creating an industrial link between Worcester and Cornwall that survived for centuries. Unglazed ceramic pieces found in excavations at Royal Worcester Porcelain will feature in this exhibition, alongside Jackson's paintings.
Kurt Jackson has a long-standing interest in Cornwall's mining industry and for the last twenty years he has explored the geological workplace as a source for making art. His artwork ranges from his trademark plein-air sessions to studio work, and embraces an extensive range of materials and techniques including mixed media, large canvases, print-making, the written word and sculpture. A dedicated environmentalist, Jackson's holistic approach to his subject seamlessly blends art and politics. Kurt Jackson lives and works in the most-westerly town in Britain, St Just-in-Penwith, which is also home to the Jackson Foundation Gallery.
Kurt Jackson, artist, comments, "These paintings show the other side to Cornwall, the less glamorous, industrial side. From the 'washing' of the clay from the face with high pressure monitors, to the pumping, the blasting of the rock and breaking and transportation, all became subject matter to the apparent tiny figures and machines working in this vast open air pit, the aquamarine pools, the white pits and sky tips. I am delighted to bring the Clay Country paintings from Cornwall to Worcester, for it echoes the journey that china clay made from the area around St Austell to the Royal Worcester Porcelain works for all those many years."
Deborah Fox, Curator for Museums Worcestershire, comments: "We welcome the ever-popular artist Kurt Jackson back to Worcester City Art Gallery for the third time. This is an opportunity to see an artist at the very height of his powers, with over 40 new works on display. We know how much our audiences love Kurt's paintings and so we are delighted to invite him back to Worcester once more."
-ENDS-
Press contact:
Kurt Jackson is available for in-person photography and interviews on Saturday 18 September 1-4pm at Worcester Art Gallery, or on the phone/Zoom from his studio in Cornwall by prior arrangement.
To book your slot and for further information contact:
Helen Stallard, PR on behalf of Worcester City Art Gallery and Museum on 0774 033 9604 or email helen@helenstallard.co.uk
Helen Large, at Worcester City Art Gallery and Museum on 01905 25371 or email Helen.Large@worcester.gov.uk
Exhibition Details:
Kurt Jackson
Clay Country
18th September – 20th November 2021
Worcester City Art Gallery and Museum, Foregate St, Worcester, WR1 1DT
FREE entry, no ticket required
12 October: Bite size talk with the curator
Talks start 1.30pm, £3 per person. Booking via the Art Gallery desk or online at https://museums-worcestershire.arttickets.org.uk/worcester-city-art-gallery-museum/2021-10-12-bite-size-talk-china-clay-cornwall-kurt-jackson
More details at www.museumsworcestershire.org.uk
About Museums Worcestershire
Museums Worcestershire is the joint museum service of Worcester City and Worcestershire County Councils. It comprises three fantastic venues – Worcester City Art Gallery & Museum, the Commandery in Worcester and The County Museum at Hartlebury Castle.
The collections and exhibitions at our sites are many and varied, covering centuries of the county's history right up to the present day. Thousands of objects, including the historic buildings themselves, are brought to life through innovative exhibitions and events throughout the year.
www.museumsworcestershire.org.uk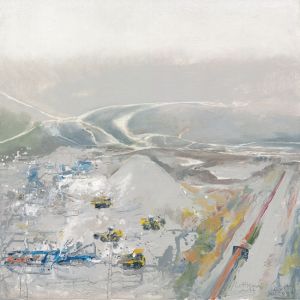 About Kurt Jackson
The son of artists, Jackson was born in Blandford, Dorset in 1961. While studying Zoology at Oxford University he spent most of his time painting and attending courses at Ruskin College of Art. On gaining his degree he travelled extensively and independently, painting wherever he went before putting down roots in Cornwall with his wife Caroline in 1984.
A dedication to and celebration of the environment is intrinsic to both his politics and his art; a holistic involvement with his subject informs his formal innovations. Jackson's focus on the complexity, diversity and fragility of the natural world has led to artist-in-residencies on the Greenpeace ship Esperanza, the Eden Project and for nearly 20 years the Glastonbury Festival, which has become a staple of his annual working calendar.
Over the past thirty years Jackson has had numerous art publications released to accompany his exhibitions. Four monographs on Jackson have been published by Lund Humphries depicting his career so far; A New Genre of Landscape Painting (2010), Sketchbooks (2012), A Kurt Jackson Bestiary (2015), Kurt Jackson's Botanical Landscape (2019) and Kurt Jackson's Sea (2021). A Sansom & Company published book based on his touring exhibition Place was released in 2014. Jackson regularly contributes to radio and television and presents environmentally-informed art documentaries for the BBC. He was the subject for an award-winning BBC documentary A Picture of Britain.
He has an Honorary Doctorate (DLitt) from Exeter University and is an Honorary Fellow of St Peter's College, Oxford University. He is an ambassador for Survival International and frequently works with Greenpeace, WaterAid, Oxfam and Cornwall Wildlife Trust. He is a patron of human rights charity Prisoners of Conscience. He is represented by Messums in Cork Street, London and is an academician at the Royal West of England Academy.
Kurt Jackson and his wife Caroline live and work in the most-westerly town in Britain, St Just-in-Penwith where in 2015 they set up the Jackson Foundation Gallery. They have three grown children and seven young grandchildren.