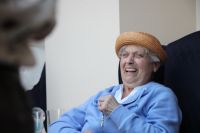 On Monday 16 March 2020 at The Commandery, Museums Worcestershire and Arts Uplift CIC will present a symposium on 'Suitcase Stories' for the arts, health and heritage sectors to celebrate the achievements of the project and the impact it had on people's lives.
"brilliant as always, no matter how we feel when we come in, we are always happy when we leave"
Suitcase Stories participant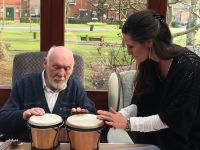 The Suitcase Stories project explored the use of music and reminiscence as a positive tool for people living with dementia and their carers both in the community and care homes. During the symposium, speakers will focus on the most recent activities delivered by the Suitcase Stories project, which has been operating successfully in Worcestershire for the last 4 years. Attendees will hear from artists, museum staff, participants and care home staff that participated, as well as listen to new music and watch an especially-commissioned dance piece from Dancefest's Chance to Dance class for older dancers. The symposium will most benefit artists, arts and heritage organisations, the health sector and social care providers.
"it's the best thing we do all week"
Suitcase Stories participant
During 2019, Suitcase Stories provided 175 music and reminiscence workshops for people living with dementia and their carers, reaching 430 people across Worcestershire. The memories from the participants influenced the creation of 9 new pieces of music.
Find out more about Suitcase Stories in our video:

"Using our museum objects to make a real difference to people's lives is an important part of what we do in museums. Through Suitcase Stories, Museums Worcestershire had been able to play a part in improving the health and well-being of people living with dementia"
Gemma Dhami, Museums Learning Manager at Museums Worcestershire
This project was kindly funded by Arts Council England, The Elmley Foundation, Museums Worcestershire, Worcestershire County Council, Worcestershire Arts Partnership, Wychavon District Council, Wyre Forest District Council, Bromsgrove and Redditch District Council, Bransford Trust and John Martins Trust.