Date
04 Jan 2021
Expired!
Crafted For You with Worcester Society of Artists 73rd Annual Exhibition
Runs beginning of December – Saturday 16 January 2021
The Art Gallery & Museum will close at 1:30pm on Christmas Eve and New Years Eve. Please read our full opening times over the Christmas period.

The Crafted For You exhibition is on display once more alongside the annual showcase of the Worcester Society of Artists 73rd Annual Exhibition. This is an opportunity to support local artists and craft makers and celebrate the wealth of creative talent in Worcester and Worcestershire. From a hand-picked selection of the county's finest craft makers to the fabulously eclectic selection of art from Worcester Society of Artists these two exhibitions promise to be a colourful, seasonal celebration of art and craft.
Crafted for You shows an exquisite array of jewellery, textiles, ceramics and other handmade craftsmanship. The Midlands has a special history as a centre for decorative making skills and we're proud that this tradition continues today and is celebrated in this exhibition which features an exquisite array of jewellery, glassware, ceramics and other handmade craftsmanship. Each piece has been made by a talented maker and hand-picked for this top-quality exhibition.
Crafted for You is perfect for that unique Christmas gift for someone special or a treat for yourself, most items are for sale and make perfect presents with a local provenance. Purchasing from the exhibition supports both the museum and local artists.
Maggie Wallace, exhibition curator says "Crafted for You is a celebration of craft with so many different makers on show all so talented and producing beautiful wares. If you are looking for a Christmas gift for someone special, or a treat for yourself, Crafted for You will have what you are looking for."
Meet the Crafted For You 2020 makers
Jewellery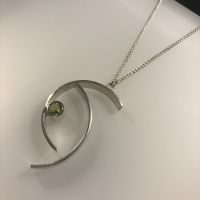 Romayne Curzon – silver jewellery
Romayne's inspiration comes from a fascination of line and movement found within nature, which feeds into handmade statement pendants, earrings, and bangles
"My aim is to capture its spirit through etching and forming, producing distinctive designs which are both abstract and representational."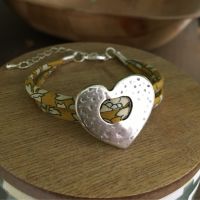 Lisa Iannantuoni– Liberty heart bracelets
Lisa makes simple stylish bracelets and greetings cards from the beautiful Liberty of London floral fabric prints. The floral fabric prints can be bold and bright or soft and subtle.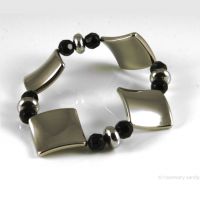 Rosemary Sandy – beaded jewellery
These vibrant handmade jewellery pieces are made using a variety of beads, Czech glass, freshwater pearls and semi-precious stones, often combined with wirework and crocheting or knitting. She particularly likes designing jewellery with a strong combination of colours.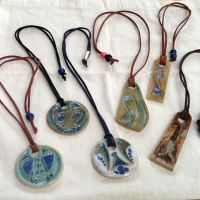 Gerry & Jan Millar – ceramic jewellery
The Millar's both studied at Glasgow School of Art. Jan's embroidery pieces have been exhibited in Liberty's of London, and Gerry is a Fellow of Chartered Society of Designers and a member of the Royal Society of Arts.
Sandeep Kaur – silver & gold
Sandeep is a self-taught jeweler who began making items for herself before friends and family started requesting their own pieces. She says, "Making jewellery I am able to use my imagination and have fun creating items that are wearable day to day, using different influences and techniques, ranging from classical to contemporary pieces… I am especially fond of working with beads due to the abundant array of colours, textures, and sizes."
Ceramics & Glass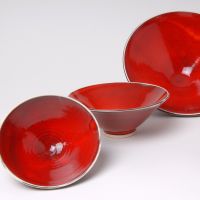 Rachel Padley – domestic ware & plaques
After a varied career which included stone carving at St. Paul's Cathedral in London and conserving ancient monuments at Arundel Castle and Harewood House, Rachel progressed to ceramics 10 years ago. Her work is influenced by old buildings and a love of nature and the countryside.
Claire Billingsley
Claire works with stoneware clay using hand–building techniques, coiling, slabbing and press moulding to create work that is both functional and sculptural, which can happily live in or outdoors. Her work is inspired by nature and a love of art history, and she enjoys experimenting with new techniques.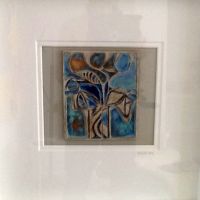 Gerry Millar – framed tiles
Gerry says of his tiles, "I have been developing a series of one off framed decorative tiles for interiors. Each piece unique, hand produced, influenced from Egyptian and Mayan cultures in a subtle way but Charles Rennie Macintosh and Gaudi are the main ghosts behind my thinking."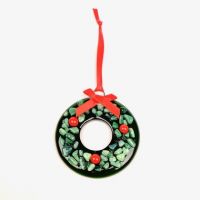 Black cat glass – Fused work, plate bowls, vases, mirrors
Becci Meakins & Rich Hamblin have been creating glass artwork in their Gloucestershire studio for the last eight years, using a mix of transparent and opal glasses to produce a wide selection of pieces which show vibrancy of colour, texture, or 'stretch' patterns.
Textiles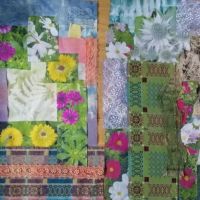 Jane Arthur – mixed media
Worcester local Jane explores nature and memory, what is passed down or handed on and the transference of memory through fabrics.  Drawn to edges and borders, water, stones, lichen, and ice, many influences from trips to Antarctica, she uses pattern and texture to explore a particular time and place in her beautiful layered works.
Pictures & Sculpture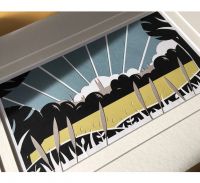 Richard Webb – hand-cut paper
Richard has worked for 30 years in the advertising and design industry and a few years ago began experimenting with papercutting. He enjoys the potential and flexibility of papercutting, with his range of original pictures also complimented by signed prints, cards and coasters. Inspiration comes from nature-related subjects, or sometimes simply what comes to mind as an interesting image.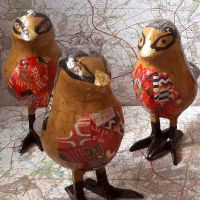 Tania Holland – mixed media
Welcome to the "Wordplay Menagerie" Tania's collection of pun inspired animal designs!  Tania has been a practicing artist for 25 years, designing colourful paintings and creating tactile sculptures from recycled materials. The latter are formed using Tania's unique mixed media technique, individually decoupaged with magazine cuttings.