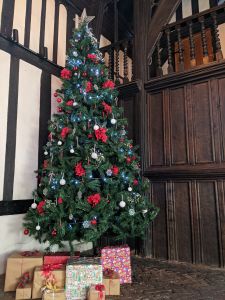 Step into Christmas and enjoy the festive spirit at one of Worcester's oldest buildings.
Throughout December visitors can enjoy an arctic animals trail and fun festive crafts that will keep all the family entertained. Their task is to search The Commandery to help Bernard the Polar Bear find all his friends before his party, and then children can create their very own arctic animal from craft materials. The trail launches Wednesday 1 December.
Helen Manning, events and activities co-ordinator at The Commandery says, "The trail is a fun way for families to explore this beautiful historic building. You can also carry on the festive spirit with a hot chocolate or tasty treat in the café afterwards too!"
The Christmas trail and crafts are running from 1 December through to 31 December.
The Commandery is one of the oldest buildings in Worcester dating back to the medieval era where it began life as a monastic hospital. It's most famously known for the role it played in the English Civil War in 1651, where it served as the Royalist headquarters during The Battle of Worcester.
Worcester residents can enjoy year-round entry to The Commandery for just £5.50 for an individual or £13 for a family, full details can be found on the website: https://www.museumsworcestershire.org.uk/museums/the-commandery/commandery-resident-pass/ Visitors should bring their council tax bill as proof of residency.
ENDS
Notes to editors
The Commandery, Worcester is open Tue-Sat 10am-5pm, Sundays 11am-3pm. It will be closed Saturday 25 – Tuesday 28 December, open Wednesday 29 – Friday 31 December and closed for January, reopening Tuesday 1 February.
Image attached shows The Commandery Christmas Tree in The Great Hall
For more information or further images please contact Helen Large, email: Helen.Large@worcester.gov.uk