Volunteer with Museums Worcestershire

Volunteer
We are currently recruiting the following roles:
Audience Research Volunteer (click to open the role description and how to enquire).
Help us gather feedback from our visitors to make their experience even better in the future.
Rolling recruitment.
Learning Volunteer (click to open the role description).
Based at Worcestershire County Museum within Hartlebury Castle, this exciting volunteer role will give you an opportunity to learn skills in museum and heritage education. This role will support the Learning Co-ordinator within the Learning Team and assist with schools sessions, the education loans resources, administration of our schools material and help with learning/schools initiatives. No prior experience is necessary, just enthusiasm and passion for engaging children and young people with museums.
Deadline for applications is 3rd February 2020.
If you are interested in finding out more about different volunteering roles at any of our three sites, please check the Museums Worcestershire Twitter page for vacancies or contact our Learning Manager, Gemma Dhami by telephoning 01299 250416.
To find out more about volunteering opportunities at Worcestershire County Museum and Hartlebury Castle, please visit the website here (link opens in new tab).
Work Experience – Next Generation Programme
At Museums Worcestershire we want to support the next generation of students become the museum professionals of tomorrow.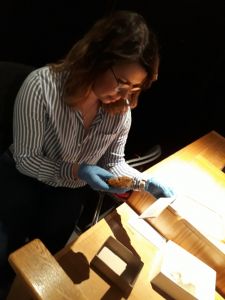 Museums Worcestershire offers 4 unpaid work experience placements a year to Year 12 and Year 13 students to give them the opportunity to understand the different roles within the industry. The placement lasts one week and offers students a range of experiences across our different departments including Learning & Engagement, Marketing & Communications, Visitor Services, and Collections & Exhibitions. Please read below carefully to make sure you are following the right route in your enquiry.
We offer 2 placements at our Hartlebury Castle venue during the Summer term (typically June or July) and during the Autumn term (typically October or November). We also offer 2 placements at our city venues, placing you at the Worcester City Art Gallery & Museum and The Commandery during your week.
The museum and heritage industry is a competitive one which means we receive a high volume of applications and are unfortunately unable to provide placements for everyone. Applications will be assessed on their merit and only applications made using the Work Experience Application Form will be considered. Please ensure you name which location you wish to have your work experience at our Hartlebury venue or Worcester venues.
How do I apply?
Please complete the Next Generation application form (click to open form in a new window) and send it to Gemma Dhami our Museums Learning Manager.
13th January – applications open for Summer term
28th February – deadline for applications for Summer term
13th March – successful candidates will be informed of their work experience
1st June – applications open for Autumn term
24th July – deadline for applications for Autumn term
10th August – successful candidates will be informed of their work experience
Application Tips
We receive a lot of applications, so how do you make yours stand out from the rest?
Read the job or placement description thoroughly, identify your relevant skills, experience and competencies. Think of examples you can draw upon to demonstrate these.
Be concise and ensure your information has an impact.
Keep it simple and clear – you can always elaborate at the interview.
Read the application questions carefully – take time to think about each question and add your personality to your answer.
Don't have any unexplained gaps on your application. If you have had a break or have been travelling, let us know.
Any qualifications should flow in a logical order.
Tell us why the placement is relevant for you – what do you hope to achieve by completing it?
Check your application before submitting. Check spelling and get a friend or family member to read through if it helps.
If you have any questions please email Gemma Dhami our Museums Learning Manager (click to open email).