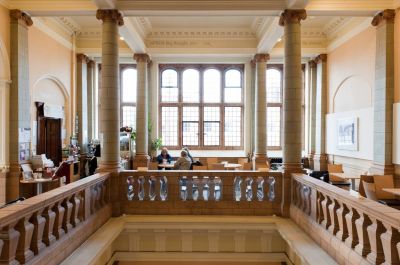 Museums Worcestershire (a partnership between Worcester City and Worcestershire County Councils) is inviting proposals at this stage, for a catering concession at the Balcony Café at Worcester Art Gallery and Museum.
The Art Gallery and Museum is housed in an historic building on Foregate Street in a busy and thriving area of the city, close to Foregate Street train station, the law courts and surrounded by local businesses.  The gallery runs a lively programme of exhibitions, events and workshops attracting an audience of around 60,000 visitors per year. The gallery spaces are light, bright and welcoming and all areas of the building are fully accessible. The Balcony Café serves as both a tranquil refuge from the hustle and bustle of Foregate Street and a great place to meet friends and family.
As well as public footfall, on the ground floor of the Art Gallery & Museum building (but not open to the public) is the main City Council offices.
We have recently significantly improved the retail offer at the Art Gallery & Museum and have an exciting programme of exhibitions opening in the next few years. We are looking for a Caterer that shares our aim to create a quality experience for all our visitors and encourages them to make repeat visits. We would like to work together in the future to plan improvements to further enhance the café space and ambience and have budget available for commissioning professional advice in this area.
For a full description of the opportunity and application process, please see the following documents:
Download the Application Document here.
Download the Caterers Questionnaire here.
Please send your offer form, trade and bank references, and completed caterers questionnaire to the Museums Audiences Manager at the Art Gallery and Museum by 4pm on Monday 7th June, 2021. Interviews will be held at the Art Gallery & Museum on Thursday 17th June and you will be notified as soon as possible.